We have a chance to save coral reefs
Coral reefs are home to over a quarter of all life in the ocean, and are a source of food, livelihoods, coastal protection, and cultural heritage for more than 500 million people.
As climate change causes our oceans to rapidly warm, destructive and excessive fishing and widespread water pollution threaten to degrade our most important marine ecosystems. If we don't take action, scientists estimate that 90% of coral reefs may be lost by 2050, with dire consequences for the communities that they protect and provide for.
There are still healthy and functioning coral reefs left, and they need our help, now, to remain a vital source of food and biodiversity for people and the planet. Through strategic on-the-ground coral reef conservation informed by cutting-edge science and coupled with climate change interventions and national policy reform, we can safeguard the planet's remaining coral reefs.
Our Approach to Coral Conservation
We are tackling this challenge from some of the most bioculturally important regions in the world: WCS works in 64 countries and across all of the world's oceans, in partnership with local communities, Indigenous Peoples, and governments to secure the future of the world's reefs. We work across biodiversity hotspots in the Indian, Pacific and Atlantic Oceans that show resilience in the face of climate change.
90
percent
WCS helps protect 90% of the world's coral species.
900
sites
Our scientists monitor the health of coral reefs at over 900 sites across the Caribbean, Western Indian Ocean, and Indo-Pacific.
This work won't happen overnight, which is why we're embedded on-the-ground for the long-term. We work hand in hand with local partners weaving together consensus-driven research and indigenous knowledge to co-create and advance shared conservation goals for coral reefs.
Coral reef conservation is complex work that crosses sectors, institutions, and borders. We work in four ways:
Achieving On-The-Ground Conservation
We forge trusting partnerships with governments and local communities to enable long-term, on-the-ground conservation interventions that are holistic and collaborative. Our science and monitoring work helps us continuously adapt and improve our work, keeping our programs grounded and locally relevant.
Driving Policy Change
We work closely with governments and other institutions to draft and advocate for science-based policies at the national and international levels. WCS is always at the table helping to amplify local voices and needs, as well as back out in the field when it's time to do the hard work of turning policy into action.

Measuring Outcomes
WCS scientists conduct in-water monitoring to assess the health of reef ecosystems and the real-time impacts of conservation efforts. Using a suite of tools, we identify top threats to reefs and counter them with conservation interventions informed by our best science, turning our data into real-world impact.
Cutting-edge actionable science
WCS scientists are world leaders in coral reef ecology and conservation. We collaborate with on-the-ground partners to identify crucial scientific needs, lead research outputs and international working groups, and bring this information back to actionable policies. Our research is discovering new insights into the impacts of climate change, fishing, and water pollution on coral reefs, how governance is affected and supported by local communities, and the ecological thresholds of functioning coral reefs.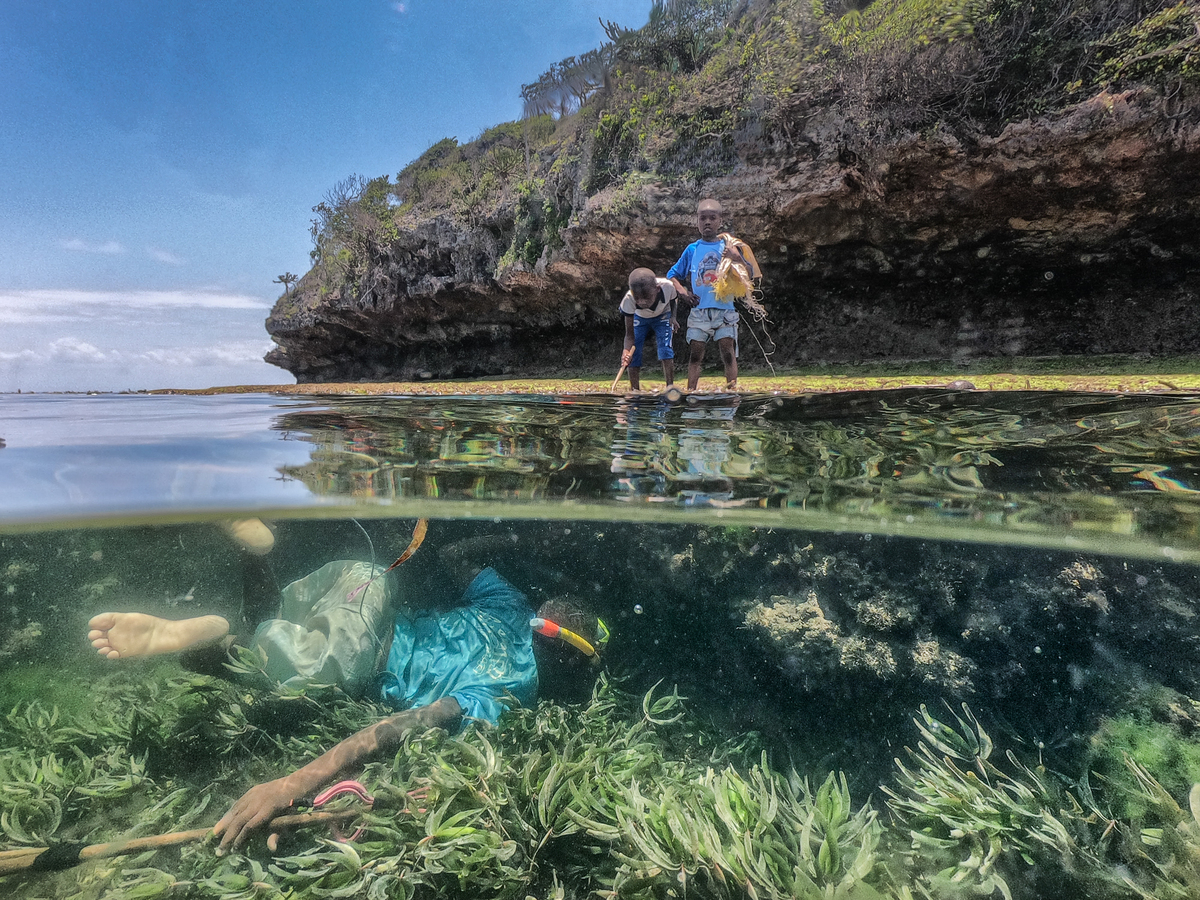 Special Projects and Partnerships
Bloomberg Ocean Initiative
Bloomberg Philanthropies' Bloomberg Ocean Initiative brings together world-class partners to ensure ocean ecosystems survive and thrive despite the growing threat of climate change. No one group or one country can solve the threats facing our oceans alone—WCS is proud to be one of the partners protecting critical ocean resources for the health and livelihood of over 3 billion people and countless marine species around the world. The Bloomberg Ocean Initiative has supported the protection of nearly 7 million square miles of ocean across the world. Read more about our work here.
---
Convention of Biological Diversity and Coral Reefs
With the UN Convention on Biological Diversity's existing global targets for biodiversity expiring in 2020, world leaders are planning to adopt a new global biodiversity framework, with new goals, targets and indicators, at the 15th meeting of the Conference of the Parties to the Convention on Biological Diversity (CBD CoP15) in Kunming, China in 2021. As CBD Parties negotiate a new 'post-2020 global biodiversity framework,' WCS is producing cutting-edge, policy-relevant science and practical recommendations around the critical need to include goals and targets focused on ecosystems and their integrity—especially to protect coral reefs—and supporting global efforts to protect or conserve at least 30% of land and sea areas by 2030.
---
MACMON, Our Marine and Coastal Monitoring Framework
MACMON is a global monitoring framework for WCS that is one of the first applications of Nobel Prize Winner Elinor Ostrom's social-ecological systems framework for management evaluation. MACMON's indicators connect underwater surveys with social questionnaires to households and key experts involved in managing coastal areas to measure impacts of management for nature and people. MACMON is implemented in 7 countries across Africa, Asia and the Pacific, and is connected to academic and policy impact through a Science for Nature and People Partnership (SNAPP) working group on Coastal Outcomes.
---
MERMAID
MERMAID is the world's first open-source coral reef data platform, designed in a partnership between WCS, WWF, and Sparkgeo to revolutionize coral reef data collection. Launched in 2020, MERMAID's dashboard provides real-time data on coral reef health to help scientists and governments mobilize to protect reefs. The platform is a vital tool to help us track the health of reefs over time and assess the effectiveness of conservation work. To date, over 570 scientists across 10 countries have used MERMAID to input data from over 1,200 coral reefs.
---
An Ambitious Agenda for Coral Reef Conservation

---
In the Media
Related Regions
Sign Up for Email Updates
Get news from the field and learn about ways you can help Earth's most threatened species.